Sauer System manufactures two modular ring systems that mount directly to the die cylinder of a rotary die cutter: a system for making RSC's, and a system for making Five-Panel-Folders and One-Piece-Folders. Both systems require the machine to have a scoring section as the tooling cuts but does not score. The literature sheets detail minimums and maximums that can be achieved. Both systems have multiple options for holder lengths.
RSC Ring System
Sauer System RSC rings are used to produce slotted cartons on a die cutter without the expense of individual wood dies for every order.
The system includes four rings that encase the glue tab and slot knife holders. A scaled indexing key is included for setting up panel sizes. Holders can be quickly adjusted using a special wrench.
When not in use the rings can be moved to the ends of the shaft. This minimizes installation and demounting time when needed again.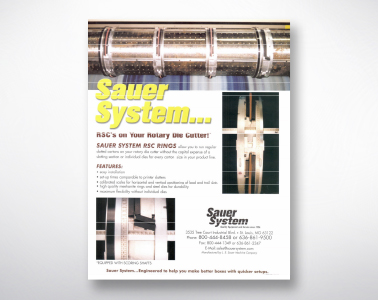 RSC Rings
Five Panel Folder Ring System
Sauer System offers a system for cutting five-panel-folders on rotary die cutters. The system features calibrated adjustable die mounting brackets which provide maximum versatility. Virtually any size five panel folder can be cut.
Horizontal and vertical elongated slots machined in the die mounting brackets allow universal positioning on the die drum. Any type of die used for multiple sizes of boxes can be used within these brackets. The minimum panel length between end slots is 2" with 3-1/2" on the next panel. Lok-Bottom boxes with different panel depths can also be run using a single set of dies.
A calibrated shrink scale is mounted on the outer diameter of the die mounting bracket. This scale permits 'off the machine' set-ups which reduce machine down time.