Sauer System pioneered a soft anvil method of glue tab cutting years ago that remains the industry standard today. When all Sauer System brand components are installed correctly and used together, the system is designed to remove 100% of glue tabs.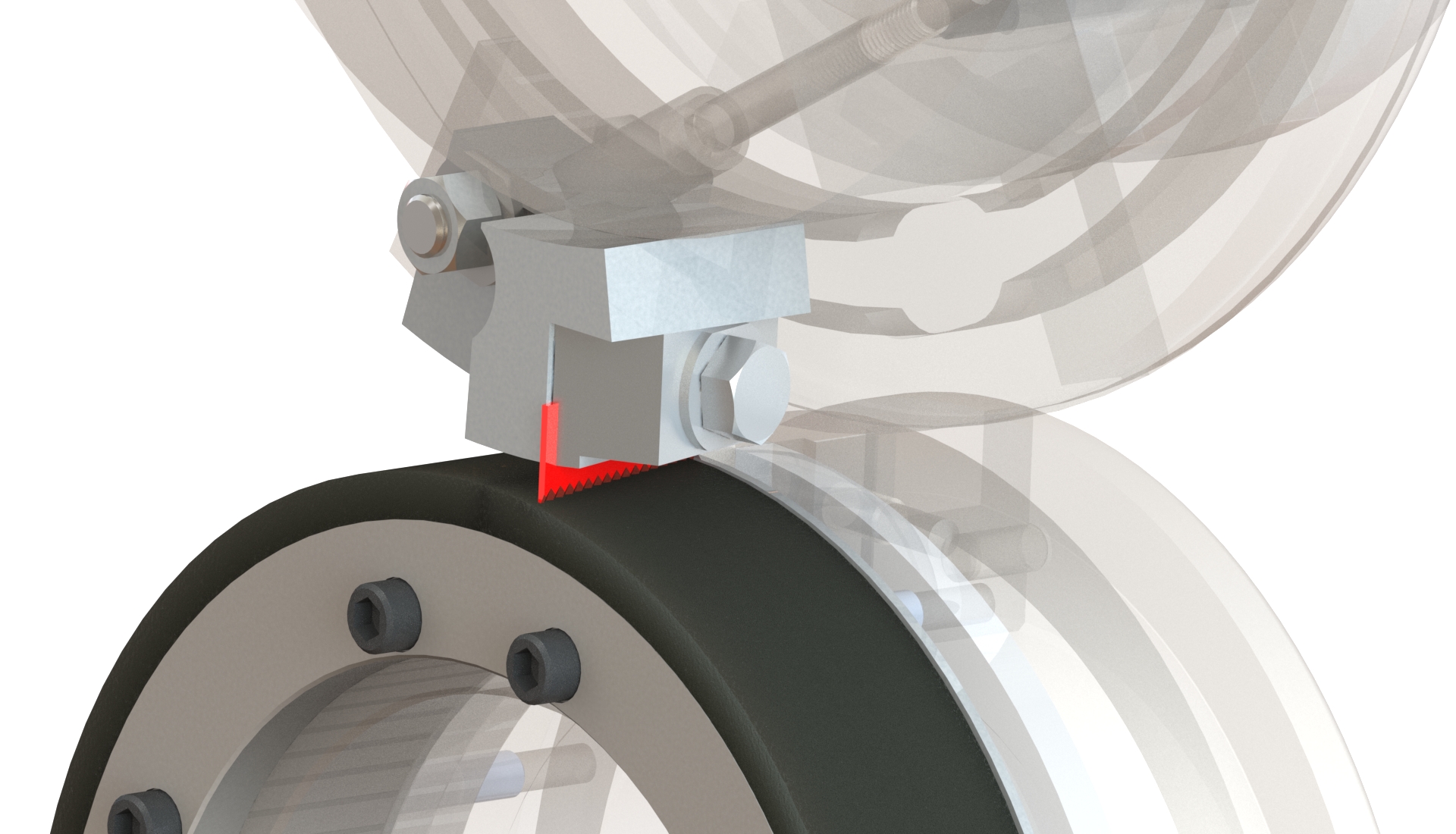 ---
System Components
UPPER & LOWER GLUE TAB HEADS
Sauer System upper glue tab heads are available in yoked and manual set designs. Each head is stamped in 1/4″ increments to assist in operator set up, knurled on the outside diameter working surface, and includes t-bolt assemblies to hold tab knife holders and male slotting blades. When needed, special application requirements can be met. Examples include heads with wider shoulders for wider tab knife holders and special index stamping requirements. Lower slot anvil systems are also furnished for yoked and manual set applications. Assemblies include the base head, pinch blade, spacer, thick blade, and anvil cover. Both heads are made from the finest materials to prevent fatigue and include a dowel pin to ensure circular bore alignment.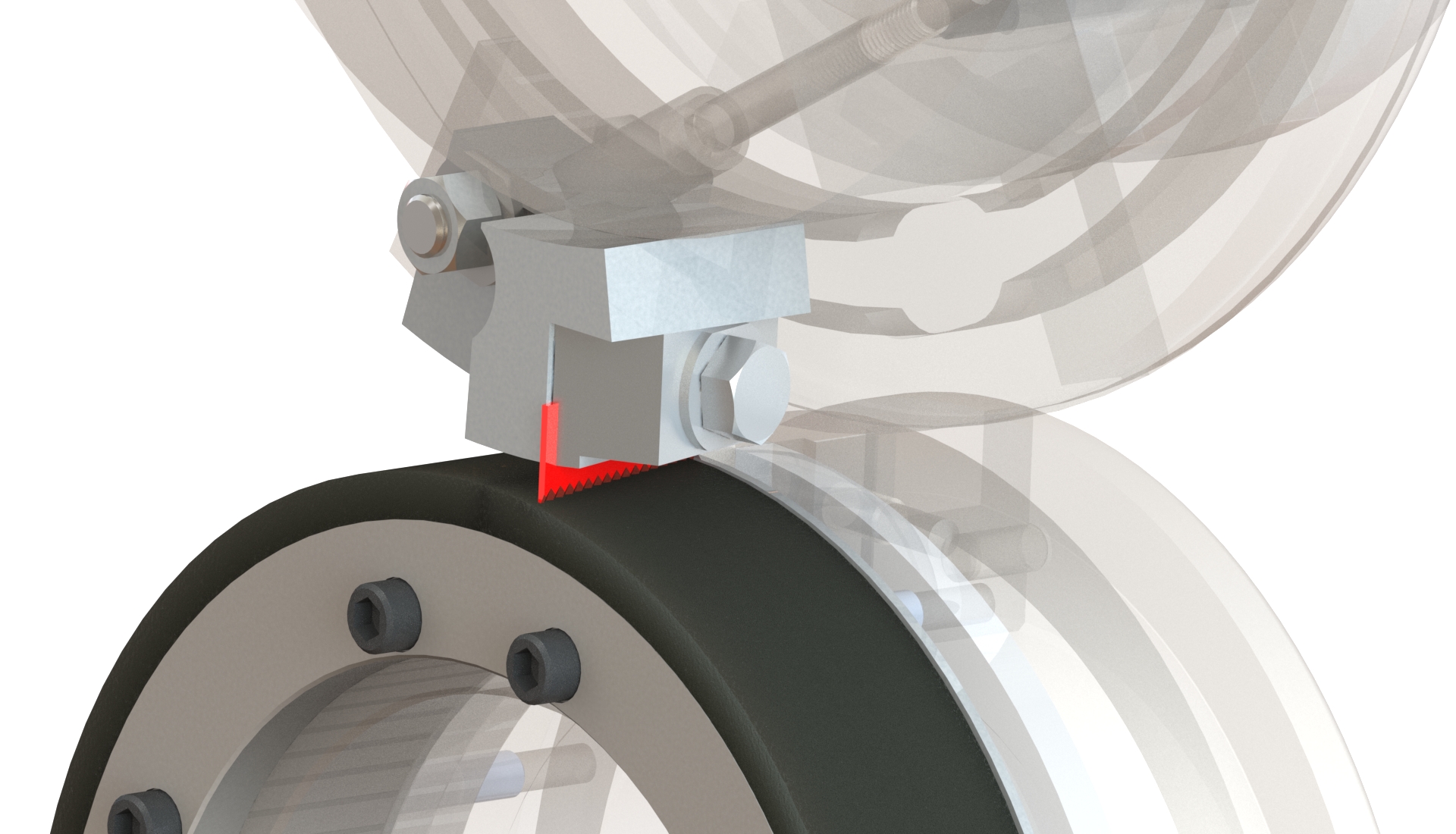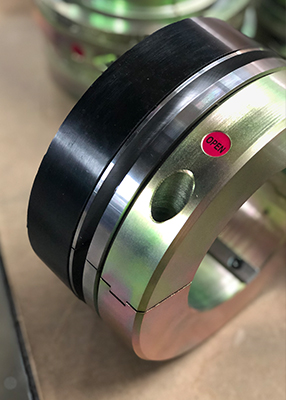 ---
TAB KNIFE HOLDERS
Sauer System manufactures a wide range of tab knife holders and clamp blocks. Custom holders can be manufactured to meet special application needs. We manufacture our tab knife holders to precise dimensions to ensure proper fit on the head. Clamp blocks are sold separately and are heat treated for longevity.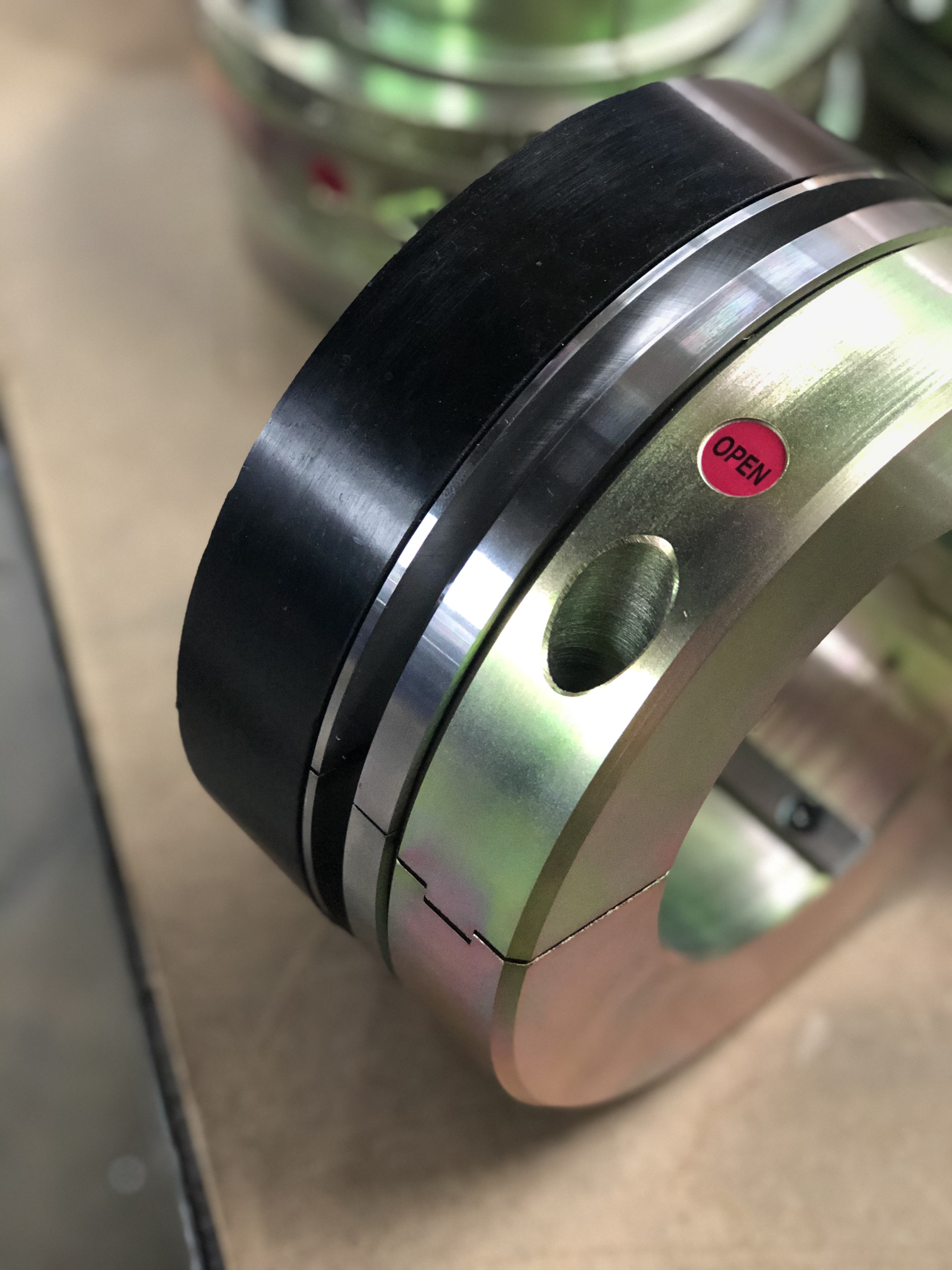 Also available are dual cut tab knife holders, which help cut long piece of glue tab scrap that would otherwise project into the die cutter or even the folding rails, into smaller more manageable pieces.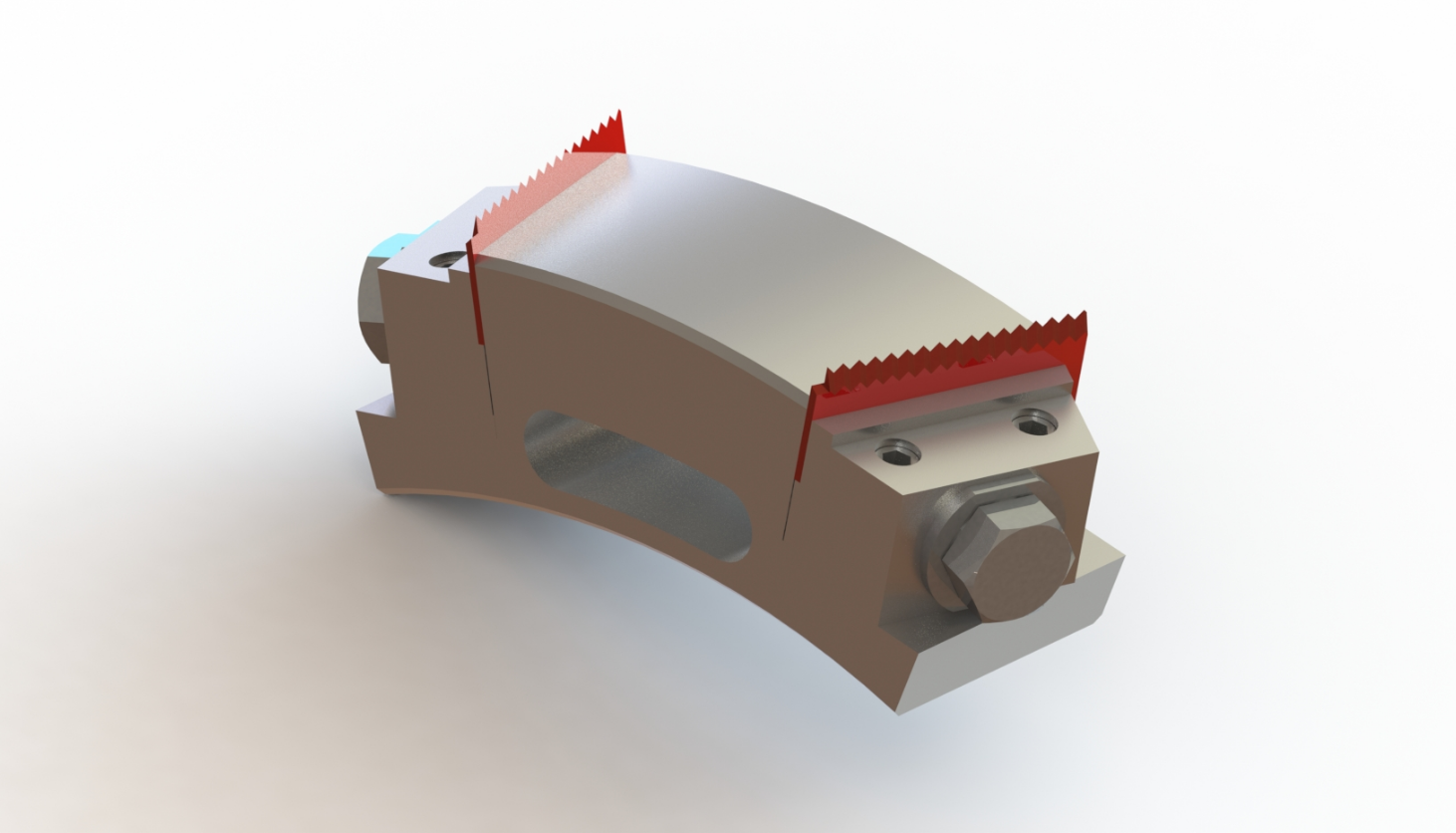 ANVIL COVERS
Sauer System anvil covers are made from Dyansauer® polyurethane and are designed for quick installation and removal with no tools required. The unique two-piece 'jigsaw puzzle' design of the covers allows free-wheeling movement on the head, extending cover life. Learn more about anvil covers here.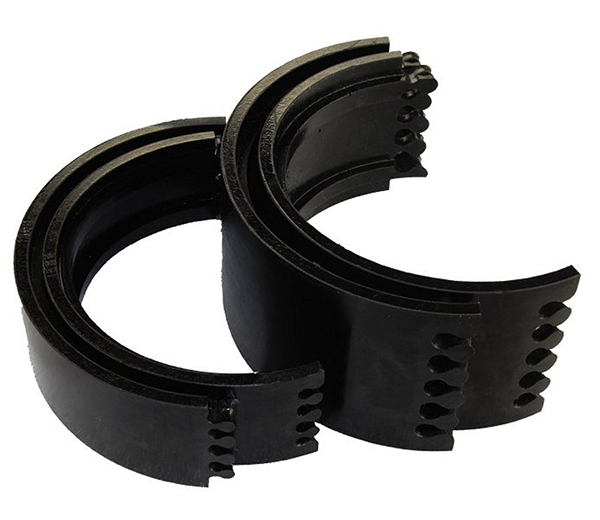 TAB KNIVES
A well-designed tab knife is a crucial element of successful glue tab cutting. Sauer System tab knives offer distinct design advantages and are an integral part of the system. Knives have an angled edge notch that performs a clean pinch cut against the 3/32" blade, not a smash-and-tear operation. The advantages of the Sauer tab knife include:
The height of the beveled edge is precisely controlled
Knives have a tapered edge so they can mount against the male slotting punch without a gap
Unique 8 tooth design allows for minimal cutting pressure and precise cutting depth
Knives are fully hardened to a minimum of 40 Rc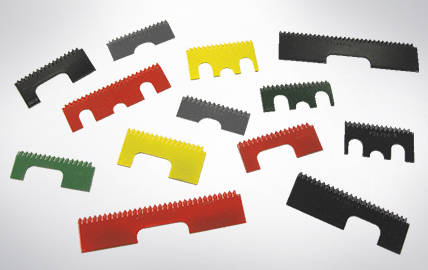 3/32" PINCH BLADES
An integral component of effective glue tab cutting is a well-designed 3/32" blade. Sauer System manufactures 3/32" blades from the finest spring steel to exacting tolerances, designed for consistent pinch-cutting of glue tabs. Our blades are designed to last longer than competitors' blades, necessitating fewer replacements and providing greater overall value.
---
Soft Anvil Conversion
Steel glue tab cutting systems require a thick, expensive tab blade adjusted to make contact with a steel anvil surface. When the press operator incorrectly adjusts the pinch cut setting and applies too much pressure, the result is excessive anvil loading which transfers from the head to the shaft and gradually begins to affect the operation of the machine.
The Sauer soft anvil system is designed to eliminate the problems caused by steel glue tab cutting, protect your machine, increase operator confidence, and reduce total cost of ownership. Installing the system is quick and easy. No special tools or experience are required. Replacing tab knives, covers, and the pinch blades on a consistent basis will maintain the system. The replacement cost for these items is far less than the steel system and parts can be delivered from stock as needed. Our system is designed to provide years of trouble-free service.