Sauer System offers a complete yoking system upgrade that replaces OEM style yokes with a spring-loaded composite block mechanism that allows for extremely quick and accurate adjustments without needing to remove anything from the machine.
The cut-away diagram shows the internal springs. The wear blocks are held closed with an end bolt. When the composite block pieces wear down, loosening the end bolt allows for the pieces to spring out and compensate for the wear. Tightening the bolt holds the adjustment in place.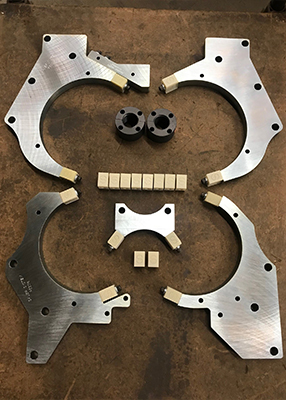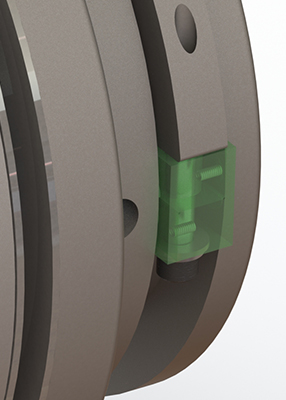 System Benefits Include
Dramatically reduced maintenance downtime
Longer life of male and female slotting knives
Improved folding and box squareness
Higher quality slots
Immediate and long-term cost savings
Quieter machine operation
Simplicity of design and function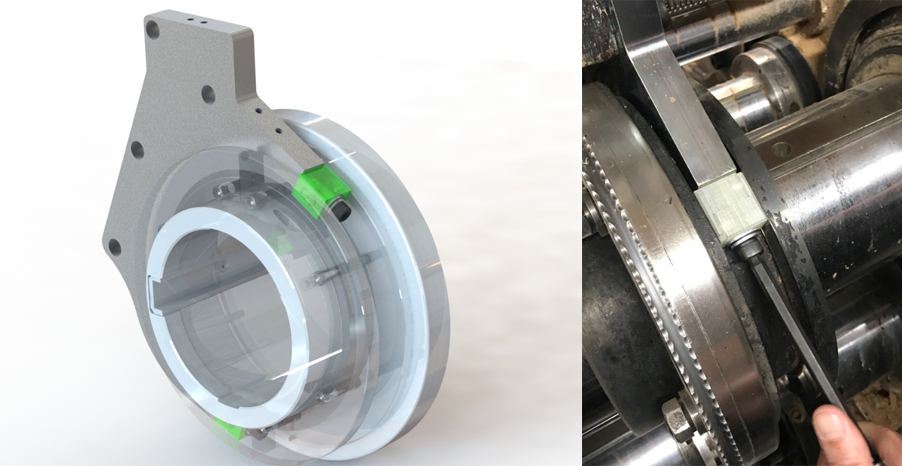 Yoke Blocks, Guides, Wear Strips, and Buttons
Many existing yoke systems utilize yoke blocks, guides, wear strips, and buttons that are made of a brass/bronze material or an inferior composite material. The brass/bronze versions tend to be expensive and become extremely hot during long runs or when head sliding issues occur. The composite versions tend to also be expensive and only last a very short period of time before they need to be replaced.
All Sauer System yoking components are machined from a proprietary fiberglass based composite material with exceptional surface abrasion resistance properties. In rigorous testing, the Sauer System yoking components outlasted all brass/bronze and alternative composite versions.